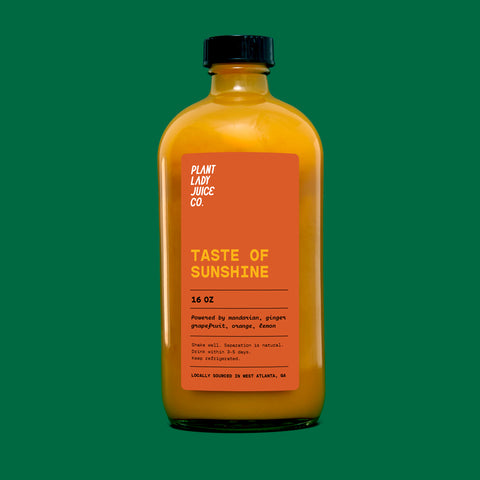 Plant Lady Juice Co.
Taste of Sunshine
16oz
If you could bottle the sun!

You'll know when you taste it. This juice warms your spirit and boosts your mood ... like a fresh sunny day.
Health Benefits
This one is for my OJ Lovers. Choose it for a quick boost of Vitamin C for immunity and a nudge telling your body to burn fat.

Before drinking, shake the bottle and visualize it giving you just what your body, mind, and spirit need.
Ingredients
mandarin, grapefruit, orange, lemon, ginger
Great title
I felt very refreshed after drinking and the taste was wonderful too. This drink will be a staple in my household.
So delicious and refreshing
I wish I could have a subscription to these juices! I would love to be able to keep them on tap because I go through them quickly, they are just *that* good. This one is really good for energy and just gives you that early morning boost that's needed for a long and busy day. I also really love the spiciness of the juice from the ginger as well as how citric tasting it is.